PILP 40: Celebrating 40 years of the Pennsylvania Institutional Law Project (Virtual Event)
6:00 PM - 7:00 PM
Eastern Time (US & Canada)
By: Pennsylvania Institutional Law Project
Source: Pennsylvania > PA Pro Bono
Topics:
Criminal
Awards and Recognition
Death Penalty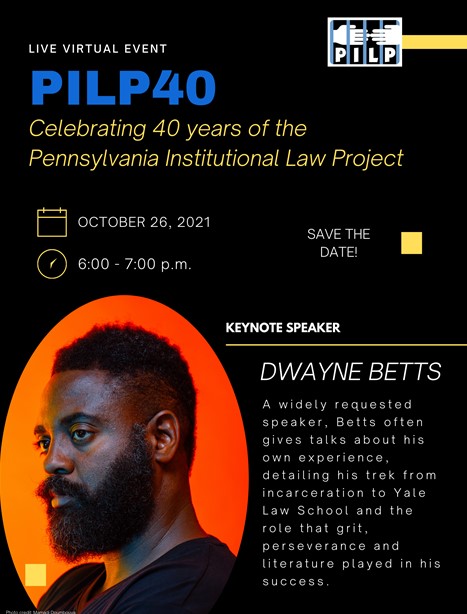 The Pennsylvania Institutional Law Project is hosting a virtural event, PILP 40: Celebrating 40 years of the Pennsylvania Institutional Law Project on October 26, 2021 from 6:00 PM-7:00 PM.
Join members of the PILP community as it celebrates 40 years of advancing the rights of incarcerated people across Pennsylvania. At PILP40 you will hear from former and current clients about the myriad ways the organization's work has impacted their lives.
The keynote speaker for the event is Dwayne Betts, a formerly incarcerated man who was able to break free from the bonds of incarceration and graduate from Yale Law School, who has also been selected as a 2021 MacArthur Foundation Fellow - "Genius Grant" recipient.
The PILP40 event is FREE to attend. Instead PILP is asking for donations to support its programs. All are welcome to attend, even without a donation, but registration is required to receive the event link.
Contact:

Pennsylvania Institutional Law Project