SRLN2020 (Nashville, TN)
Thursday March 05 -
Friday March 06 2020
By: Self-Represented Litigants Network, Tennessee Supreme Court Access to Justice Commission, Program on Law + Innovation (PoLI) at Vanderbilt Law
ALL DAY
CLE Credit
Location:

Vanderbilt Law

131 21st Ave. South

Nashville

, TN

Contact:

Self-Represented Litigants Network

Source: Pennsylvania > PA Pro Bono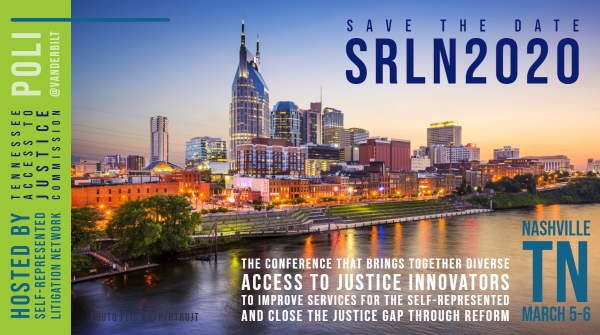 The Self-Represented Litigants Network, in affiliation with the Tennessee Supreme Court Access to Justice Commission and the Program on Law + Innovation (PoLI) at Vanderbilt Law, is presenting SRLN2020 on March 5-6, 2020 at Vanderbilt Law, Nashville, TN. The main conference will be March 5-6, with specific March 4 pre-conferences to be announced.
SRLN2020 is a two-day in-person national conference for lawyers, judges, clerks of court and court administrators, self-help services professionals, librarians, technologists, funders and other allied professionals to explore and develop successful strategies and new thinking for providing 100% access to justice. The conference is designed to foster access to justice leadership and facilitate the adoption of consumer-oriented best practices among court, advocacy, and services partners to create a fair, efficient, and effective civil justice system for all.
CLE Credit Comments:

Continuing education credits may be available.
Topics: